For most young people masturbation is their first introduction to sex. It allows them to discover their body and their first sexual impulses. Nobody teaches them the technique, it comes naturally and it allows them to experiment. It's amazing that many religious organisations are against masturbation and many consider it wrong or even sinful.
The concept of a sin in Christian religions almost always comes from the Bible. but the word masturbation was never mentioned in the Bible. Despite this, theologians have interpreted Holy Scripture and concluded that masturbation, a sexual act that is natural in human behaviour, is somehow against the principles of Canon law.
Not surprisingly as the chart below demonstrates, almost everyone, both male and female, have gone with their natural instincts and ignored Canon Law.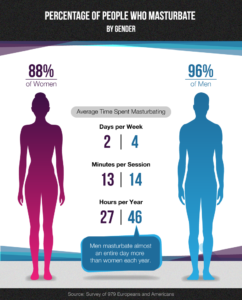 But masturbation is not only an introduction to sex. For most people it continues throughout their lives to be the teacher that opens up new possibilities and new sexual horizons. Any good sex therapist will vouch for the importance of masturbation for a number of diverse reasons.
Firstly and most obviously masturbation is hugely enjoyable. It is a never ending journey of discovery of the human body in all it's fascinating diversity.

Masturbation lowers stress levels and instantly banishes sexual frustrations.  

It is the perfect antidote for many sleeping disorders. It switches the mind into a relaxed sleep mode immediately the climax has been reached.

With guidance from professional sex therapists masturbation helps to control sexual urges and cure problems such as premature ejaculation and anxiety related sexual disorders.

It allows couples to experiment, discuss and overcome inhibitions and lack of self confidence in their sex lives. 

Masturbation increases the blood flow in the genital area of both men and women. This in turn results in a healthier body and a more fulfilling lifestyle.

Masturbation is one of the few things  we can do anytime, anywhere, at our own speed in the comfort and privacy of our own home.

We can also do it in the knowledge that it is healthy, enjoyable and safe from any risk of infection.

So if there is nothing on the television, if you are feeling lonely, if you want to experiment or you just want to prove to yourself that you're as good as everybody else, give masturbation a try before you say your prayers and go to bed.

Try masturbating with your partner as a new method of foreplay. This will improve both of your sex lives. ENJOY